Termite Swarms
We received our first termite swarm call this week. This occurred at a residential slab home. The termites entered the structure behind
the refrigerator through a crack in the concrete slab. During the inspection, we found that the termites have damaged the walls and trim behind the refrigerator. In this situation, we will recommend a soil treatment to eliminate the termite colony and recommend the damages be repaired. In this case, the termites were discovered early and only minor damage has occurred. Termite swarms are usually the first evidence a homeowner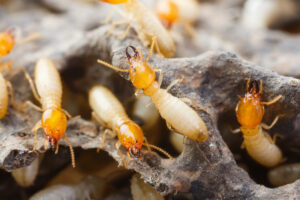 will discover when they have a termite infestation. They are described by many homeowners as flying ants, or ants with wings. A homeowner may also discover mud shelter tubes on foundation walls built by the termites. These shelter tunes provide a highway between the soil and the food source and help protect them from predators. Shelter tubes can be found on crawl space walls, exterior walls, on interior walls and in cracks between moldings.
If you ever experience a swarm of "ant-like" bugs in or around your home, we recommend that you have them identified by a professional. Termites will usually swarm between March and June. The swarms are triggered by humidity and temperature. We will usually have a significant number of calls after heavy rainfall when the humidity levels are high. Swarms usually occur between 10 a.m. and 4 p.m. If you arrive home from work
and find large quantities of bugs on the floors and windowsills, this is a good indication that you have experienced a termite swarm. Catching a termite infestation early is the key to preventing damage to your home. A trained professional knows where to look and what to look for when it comes to termites.
We are always here to answer any questions you may have about all your pest needs.
This post was brought to you by Jenkins Pest Control and Lawn Services in San Antonio Texas